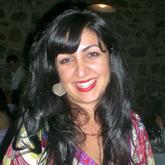 Ladan Wise
Product development Manager, TED
Bio
Australian, living and working in New York.
I have worked in the web world since 2001 and have had varied roles, university tutor, freelance designer, public servant and now I work in digital product development for TED.
I have a keen interest in user centered design, service design and using the web for good instead of evil.
TED Conferences
TED2015, TEDGlobal 2014, TED2014, TEDWomen 2013, TED Fellows Retreat 2013, TEDGlobal 2013, TED2013, TEDActive 2012
I'm passionate about
Justice, education for all, good design, food.
Talk to me about
Service design, coffee, good (and strange) travel locations