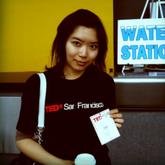 Sally Tang
User Experience & Usability Consultant, EchoUser
Bio
After graduated from Cornell University in the summer of 2010, I moved to the bay area and worked as a usability specialist in Oracle's User Experience Application Group for a while, then jumped in an exciting bay area startup life in EchoUser, a UX design and research consulting firm. With a new title of User Experience Engineer, my work has been pretty much a cross-over of research, usability testing and design.
I started actively blogging since my birthday in 09. So far the experience of having a place where you can continuously record and share your life and thoughts has been incredible. Going back, reading all my posts in the 15 months that I have been on it keeps reminding me how unpredictable and exciting your life can be in your 20s. I used to be this student HCI researcher in Cornell's collaboration technology lab with my "claimed" research interests on computer-mediated communication and computer supported collaborative work, which, don't get me wrong, I am still interested in, and that's exactly why I am still doing stuff that are closely related to UX now:) But what's more to that, is me learning to acquire that researcher mindset: the curiosity of always trying to figure out the connections between things and the critical thinking perspective to not to be blinded by seemingly correct "facts".
An idea worth spreading
I am so glad that I somehow found something that combines my various interests together. Writing, research, design, probing into thought processes and conveying meanings, all those seem to have perfectly fit in the concept of "presentation." Well, yeah, in a sense, making slides and presenting them, which could be more difficult than what you think. Ms.Nancy Duarte is definitely the secret ingredient to it. With her passionate career in presentation design and consulting, I have no doubt of the power of good presentations, and how much there is to be done to help people make good presentations. Imagining the idea that I might do something similar to what Duarte Design has been doing is quite exciting, so the next step is, stop imagining and getting real and concrete things done day by day, so I can work towards that goal.
I'm passionate about
Blogging, presentation design, user experience engineering, design, singing, music and of course, TED :)
Talk to me about
Blogging, presentation design, user experience engineering, design, singing, music and of course, TED :)
People don't know I'm good at
Salsa dancing! :P (well, not so much that I am good at, but still, I am quite passionate about it)