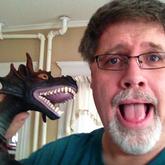 Todd Fenwick
Transition Coordinator, Hunterdon Learning Center
Bio
I am the Transition Instructor at small rural private day school for students with Special Needs. It is my job to guide them along the path into adulthood and prepare them for the challenges and dreams that lay in wait. I found TED last year after hearing about it at a workshop and been encouraging my students to emerse themselves in the wonder that TED creates. It was been a wonderfully successful experience...
Languages
Areas of Expertise
Special Education & Technology, Transition Services
An idea worth spreading
The two percent rule of population. Take any groups of people and two percent of that population represents either the very worst of that given popuation, or the very best of that population. This theory is born out of conversations with young people who have the misconception that certain groups are all bad, ie police officers, catholic priests, etc. My argument has always been that that is a misperception, and that in fact it is only a very small part of any group that in fact "bad" and thus misrepresent that population. This theory can also be used when talking about the "best" part of a population. I have no illusions that theory is in the same vein of the 6 degrees of separation theory and as such not wholly quantifiable.
I'm passionate about
Passion, wonder, learning, creativity, and self-expression
Universities
Talk to me about
Passion for topics that are near to your heart.
People don't know I'm good at
Telling stories of my past, some you will laugh at, some you will cry at and one or two may even make you think about the world in a new way.