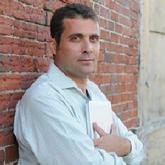 Deron Triff
Director, Content Distribution, TED
TED Conferences
TEDGlobal 2014, TED2014, TEDGlobal 2013, TED2013, TEDGlobal 2012, TED2012, TEDGlobal 2011
An idea worth spreading
I've always felt that EMPATHY (or its absence) is the defining character trait that determines who will give back and who will take. The character of our political systems. The longevity of our relationships. The condition of our natural environment. Whether we suffer or surmount insecurities. Everything. By building empathy, we live richer, fuller lives for ourselves and for those around us.
I'm passionate about
Adventure sports & the outdoors! I've been dragged across the Atlantic by a renegade kiteboard (definitely the board, not me!), ice-climbed frozen waterfalls, sailed Rhode Island to Maine, and stuff!
Universities
Talk to me about
Anything and everything. I have infinite curious and boundless passion for new experiences.
People don't know I'm good at
Shooting water 20 feet (or more) with my hands. Forget the squirt gun. I can beat it every time!
My TED story
My TED story begins with my children. Every Sunday night we sit down as a family to watch a TEDTalk. To see their faces turn to wonder when a TEDster rocks their world, rocks mine!