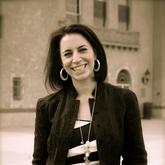 Dafna Michaelson
President, Journey Institute
Bio
Dafna Michaelson is the founder, president and JourneyWoman for the 50 in 52 Journey, a project for which she traveled across America to all 50 states and Washington DC spanning the 52 weeks of 2009 to find America's problem solvers and idea generators. Through this Journey Michaelson has been sharing the stories of ordinary people doing extraordinary things for their communities throughout the country with the goal of inspiring others to action.
The project received national attention from CBS Sunday Morning, NPR, CNN as well as KUSA Denver's NBC affiliate, the Denver Post, 5280 Magazine multiple radio stations, local news outlets and countless blog recognition and social media for social good awards as the country became motivated by the Journey.
As the travel is complete Michaelson has launched the Journey Institute with her partner in community and life Michael Jenet to take what she has learned this year and begin assisting people nationwide in taking their ideas off of the couch and putting them into action in their communities through connections and support from the Journey team.
Prior to taking off around the country Michaelson served as Director of Volunteer Services and Patient Information for Denver Health and Hospitals Authority. In her role, Michaelson increased active volunteer participation by 44% and became credentialed as a Certified Administrator of Volunteer Services, an American Hospital Association Designation. Michaelson was the first professional in her field to be certified as a CAVS in Colorado.
Michaelson is a graduate of the University of Denver, Daniels College of Business, the Yeshiva University Stern College for Women and the Cincinnati School for the Creative and Performing Arts. With her MBA, BA in Music and HS majors in Drama, Vocal Music and Technical Theater. Her diverse background has prepared Michaelson for her career in the profession of non-profit leadership. 
 
An active participant in the Kentucky Indiana Ohio Region of the B'nai Brith Youth Organization (BBYO), Dafna has been trained since childhood to participate as a leader in community organizations. In 1990 Michaelson received one of two scholarships in her region to participate in the second March of the Living (MOL). MOL is a program which takes Jewish teenagers to several of the Nazi concentration camps in Poland, including Auschwitz, to mourn the loss of millions of their ancestors in the Nazi Holocaust. This week is followed by a celebration of life in Israel. The mission changed her life and cemented her passion for active involvement within her community as a commitment to the 100's of members of her own family who perished in Eastern Europe.
 
Michaelson is a life member of Hadassah, and in 2009 completed a two year term as President of the Denver Chapter of Hadassah, the Women's Zionist Organization of America. She previously served as National Young Leaders Advisory Council Representative for the Desert Mountain Region, an eight-state region spanning the US from the Canadian border to the Mexican border, and Vice President of Leadership for the Denver Chapter. In this role, Michaelson received the Judith Epstein Memorial Award for her project entitled the Desert-Mountain Region World Series of Poker and the creation of a custom deck of playing cards titled: "52 reasons to be proud of Hadassah." The Denver Chapter of Hadassah is 1400 members strong and was founded in 1915.
Following in the footsteps of several Colorado Governors and other Colorado Elected officials, Michaelson is an alumnus of Leadership Denver, a program of the Denver Metro Chamber Foundation where she led her class in acquiring a Denver's Road home parking meter to support the Mayor's initiative to end chronic homelessness. Trained by Hadassah to work in all areas of advocacy Michaelson strives to be involved in the larger community of Denver through joining the Denver Health Foundation's Level 1 Society Board. In 2007 she received an appointment from Mayor John Hickenlooper to the Denver Women's Commission. Michaelson has also completed the Downtown Denver Partnership 2007 leadership program where she took a leadership role co-chairing the operations committee of the Greenbiz Denver project. Most recently Michaelson joined the Colorado Women's Lobby.
 
Professionally, Michaelson has worked in the community as Director of the Holocaust Awareness Institute for the University of Denver, and Director of March of the Living for the Board of Jewish Education of Greater New York. In 2003 Michaelson launched Design by Dafna at the National Stationery Show in New York, manufacturing for resale handcrafted invitations and stationery.
Michaelson shares her life with her husband Michael Jenet his 16 year old son Ryan and her two beautiful children, Gavriella Leeba, 10, and Eytan Daniel, 9.
Areas of Expertise
Social Entreprener, Social Media, Commuinty Building, Public Speaking, Consulting, Curriculum Design and Teaching, Storytelling, Problem Solving, inspiring people to action
An idea worth spreading
Turn off your TV and turn your attention to true stories of people changing their communities by solving problems or challenges that face not only them but those around them. With deference and respect to our Native friends and neighbors, the pioneers who built this country understood that to create our nation they not only had to plant their fields and build their barns they also had to help their neighbors plant their fields and build their barns and together they built the church and the schoolhouse. We are no different today. We build our businesses and we must support our neighbors in the building of theirs and together we build the community center. The people who understand this ideal will be the people who create the new American economy and the new way America will be viewed in the world.
I'm passionate about
I'm passionate about changing the mirror we use that reflects who we are as a society. Look at the people around you and away from the media to truly see how great we are.
Talk to me about
Women entrepreneurs, social entrepreneurs, community, kindness education, 50 in 52 Journey, America, community, leadership, business, higher ed, elevating problem solvers
People don't know I'm good at
My TED story
As a single mom I traveled to all 50 states, one state per week for the 52 weeks of 2009 to find the real people solving problems in our country and truly moving America forward. I met 500 people like this all over our amazing nation. I met people aged 14-91 across the spectrum of religion, races, socioeconomic realities, from recently homeless to multibillionaire and everything in between. I know beyond a shadow of doubt how wonderful our country is and how through recognition that we are all in this together, we have the power to build the America we want to be. Check out the stories of these amazing Americans at http://www.50in52journey.com