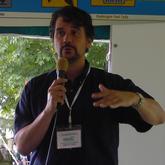 Charles Lazin
President & CEO/ Founder, Altren Consulting and Contracting, Inc.
Areas of Expertise
Integrated renewable energy systems.
An idea worth spreading
DESIGN, Build and retrofit residential and commercial buildings that combine high efficiency building envelope ( insulation, windows etc). Install high efficiency Geothermal ( ground source ) heating and cooling system. Geothermal system runs on electrical power which can be 100% generated by renewable sources like hydropower, wind, biomas, solar. In deregulated electrical power market each consumer has an option to choose that 100% of electrial power used is actually generated by renewable sources. Check with your local power company. Solar electric array (PV) if installed locally also generates electrical energy that supplements green power used from the grid. Also locally installed Solar Thermal systems can supply 80% of domestic hot water and can also be used for supplemental space heating. Integrate systems with controls for seamless and most efficient operation.
I'm passionate about
To transmit, to convey, to teach and inform about already available renewable energy systems and their benefitial potential if used on much larger scale than advocated and implemented today.