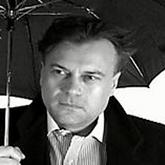 Frank Mruk
Associate Dean School of Architecture and Design, New York Institute of Technology
Bio
Frank Mruk is the Associate Dean for the School of Architecture and Design at New York Institute of Technology (NYIT). He was also a Co-Director for the Masters in Urban and Regional Design program (MAURD). He is also a partner in DMA Architecture in New York and served as President of the NY Association for Strategic Planning, Executive Director of the New York Center for Strategic Innovation and is a founding partner of the Strategy Professional Resource Center (SPRC).

Languages
TED Conferences
TEDGlobal 2009, TED2007, TED2006
Areas of Expertise
Strategy Development, architecture, planning, design, Urban Planning, Management
I'm passionate about
Designing Strategy & Strategizing Design.