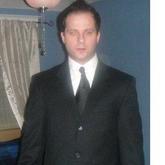 Nicholas Cristella
CEO - Leader, Fascist American Party
Bio
Hello My Name is Nicholas A. Cristella. I am the CEO of Decisive Decisions Marketing. I am originally from New Jersey though my parents are from Philadelphia. This company was founded in 2007 and developed from 2009 to present. Currently we have developed unique initiatives in several markets to openly congregate American Infrastructure while creating structural guidance using modern technology. The company has started its fundamental origination through it initial product using highly analytical means of the current economy. This is directly from our profile on linkedIn:
DDM,LLC is a multi-market conglomerate in its early stage of fundamental growth; with big ideas and large plans for the future Decisive Decisions Capital Markets is an investment for investors seeking meaningful financial success.
Decisive Decisions Marketing will operate as a Small to Medium Enterprise (SME). With unique business models and strong integral ethics this corporation will use fundamental product profits to acquire and assist larger markets as a multi-market conglomerate. Currently our business models indicate a vision to complete-infrastructure through a (9) nine markets individually conglomerated. A strong fundamental core ethic consideration of American government and international trade are within this plan. Ideas of new automobile-manufacturing, housing creation, future technology creation and a unique plan of explicit infrastructure to improve salary and quality of living in upwards of 100 million Americans are just some of the capabilities from the company's businesses ideas. Currently Decisive Decisions Marketing is seeking and procuring private capital. We have also designed the diamond business model of accommodating businesses available on our website as well as a micro for the automotive industry. We see the inadequacies in the market and treat our nation as a child being stripped of its resources.
An idea worth spreading
The only idea can be the outcome for all. ... Though we need stricter laws on birth-rate. Here's any idea worth spreading, "If I don't get some damn TEDCred I am going to be very angry. I'm holding Bill personally responsible." Extreme education my ba-tooty, she's in NY getting shagged rotten.
I'm passionate about
Success, life, achievements, order, outcomes, Kings and Queens.
Universities
Talk to me about
Your work, your new gadgets, someone else's company, please don't talk too much.
People don't know I'm good at
I can throw a football 50 ft in the air and catch it behind my back 10 times! (+)
My TED story
Met a pretty girl, lost her to the Queen of Greenland with their need for new population. Disagreed with a lot every since.