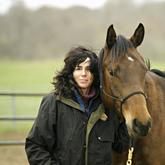 Lisa Arie
Founder & CEO, Vista Caballo Innovation Ranch
Bio
Lisa Arie is a master at navigating the unknown. She's done it all her life.
The former founder and CEO of two multi-million dollar companies, Lisa learned at a very young age how to wake up in a world without context, and thrive. Tucked in the arms of her globetrotting parents, she travelled from the Aboriginal outback to the safaris of Africa, crossing six continents and experiencing a smorgasbord of culture. She developed a fearless sense of adventure, all the while honing her instinctive intelligence – her internal GPS -- and learning to make decisions without fear or assumptions.
With the world as her springboard, Lisa's career began in the fast-paced, high-strung, anything-goes jungle on Madison Avenue. She worked on some of the advertising industry's most notable campaigns, including the landmark Motel 6 campaign with Tom Bodett. From there it was a rapid steady accelerated climb up the corporate ladder, at the top of which Lisa took her first big leap, founding and pioneering two of the industry's most innovative companies in production and talent management. In less than 10 years, her companies earned revenues of $24 million dollars and became a standard for a new way of doing business on Madison Avenue.
As her business soared, Lisa felt her instincts calling once again. Her internal GPS was ready to take her on an inspiring new adventure, one without any previous context. It was on this remarkable expedition that she discovered an entirely untapped part of herself – the gift for helping others reconnect with their instinctive intelligence to navigate the unexpected with speed, agility and conviction.
Today, Lisa Arie is an author and the founder of Vista Caballo's Innovation Ranch, an exclusive self discovery center for a new breed of visionary leaders, thinkers and explorers in Dove Creek, Colorado. It's for people who have accomplished much and want to take their game to a whole new level. Drawing clients from around the world, Lisa helps Vista Caballo guests activate their own innate instinctual intelligence and access a fuller range of responses they had no idea existed. The sustainability found in this very visceral experience ripples through every aspect of their life.
Lisa had quite a journey from Manhattan to Dove Creek, an experience where her one lesson stands out above all others: Anything is possible, and that means the rules as you know them are obsolete. Lisa can be reached at la@vistacaballo.com. Or visit vistacaballo.com
Crossing the Silly Bridge by Lisa Arie can be found at amazon.com
Areas of Expertise
Leadership Development & Team Building, leadership development, professional and personal development, Change Acceleration - Leadership/Consultation, Change and Transformation Management, Personal + Organizational Evolution, Evolution Development, Risk management, Group Creativity Facilitator, Opportunity Exploration
An idea worth spreading
The greater your agility in the unexpected, the faster you move to safety.
The greater your tolerance for the status quo in the absence of knowing what 
else to do, the greater you risk getting hurt.
I'm passionate about
Truth. Justice. Innovative creations. My husband. Vista Caballo. Horses. Health. Learning. Progress. Hieronymus Tea. Possibility. Neuroscience. Thought leaders. Reading. Making a difference.
Talk to me about
What prevents people from stepping out of their comfort zones.
People don't know I'm good at
My TED story
Being the founder and CEO of a multimillion dollar business, I had all the outside trappings of success. One day, I realized that I was missing something. I realized it was me. So I left everything I knew (and the bright lights of New York City) in search of a new way to live. I discovered that when our hearts speak, and we listen, we find ourselves. I did.
The Vista Caballo Innovation Ranch grew out of my findings. Now I work with some of today's most progressive leaders fine tuning some very courageous conversations they have with themselves first, and then with others. Today's leaders have to be more creative, agile, perceptive, preemptive and able to make great decisions in a vacuum. What I discovered is we have all the tools to make our bold move; they just get lost along the way. The good news: what we need the most is hidden in plain sight. My life's work is now about redefining our response to chaos and in the process, finding our edge.