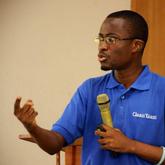 Bio
Prince works as the Logistics and Supply Chain Analyst for one of the most innovative sanitation companies, Clean Team Ghana Ltd., providing affordable, reliable solution to the problem of inadequate sanitation infrastructure in countries that are struggling to provide for the basic needs of their burgeoning urban populations. His work at Clean Team includes developing, implementing and evaluating transportation models, managing warehouse operations and optimizing logistics and supply chain activities within the strategic framework of the company.
Prince holds an MBA and a BSc.
Curator: TEDxKNUST & TEDxKNUSTChange. TEDxChange Scholarship Recipient for TEDActive 2013 & TEDGlobal 2013.
Follow me on Twitter: @princeboadu
Languages
TED Conference
TEDGlobal 2013
Areas of Expertise
coorporate leadership, Management - Projects , NGO Management, Poetry and Writing
An idea worth spreading
Developing state-of-the-art recreational centers across the African continent. It's time to see a smile on every child's face on this continent!!
I'm passionate about
Green Supply Chain and Sanitation Management.
Universities
My TED story
I attended TEDx Harambe in Accra,Ghana and it was definitely refreshing and intellectually stimulating. I also attended TEDxAccraChange. I'm the primary licensee for TEDxKNUST and TEDxKNUSTChange.
Favorite talks