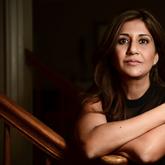 Nilofer Merchant
Corporate Director, Public and Private Ecommerce Companies
Bio
Born in India, i came to the US around age 5.
Having been raised in Silicon Valley, I grew up with technology. In fact, the apricot orchards where Apple sits now were the first source of income as my brother, sister and I picked fruit for money. (Being youngest and smallest, i stood at the foot of the tree catching apricots with a baseball glove so we could yield more baskets and earn more money...i earned $.10 on the dollar, which was an early lesson in economics and market power).
Today, i apply the rules of economics and results in business. I am a Strategist and Author. I love creating business strategy that achieves real results. I believe in a transparent, coollaborative approach to solving tough problems while working with and for companies like Adobe, Apple, Nokia, HP and others. I founded and led a multi-million dollar services company. My firm worked with global corporations such as Hewlett-Packard, Pinnacle, Logitech, Openwave, Symantec, among others, to create solutions to win markets.
in early 2010, O'Reilly published my book called the New How on how to create better business solutions through collaboration. It's a humanistic way of setting direction and innovating within companies. I'm looking for ways to make this approach commonplace so each voice inside business can be heard and benefit the outcome of that business.
TED Conferences
TED2014, TEDWomen 2013, TED2013, TEDGlobal 2012, TED2012, TED2011, TED2010, TEDIndia 2009, TED2009
Areas of Expertise
Business Strategy, Collaboration Management, Technology Marketing, Author - Speaker, Business Model
An idea worth spreading
Moments define, or rather they let us redefine who we are.To deny one¹s past and only focus on aspirations is to be flighty. To only focus on what¹s you¹ve already done is to bounded by history. To neglect aspirations is to deny our ability to create. To forget our humble beginnings is to deny our heritage.
We are always 2 ‹ both our past and our future. In the middle is the creative act we are living.
Companies that live in the future and forget who they¹ve been often lose
their core loyal customer base. But those that only focus on what we've
already done are limiting growth and innovation.
Each of us bound by our past ‹ our accomplishments and our failings ‹ and we
ALSO owe it to yourselves to allow our aspirations and dreams to flourish so
that we can also enable the process of defining who we¹ll be.
Sometimes we weigh too much on one, and yet we are always 2.
I'm passionate about
Enabling a culture and systems that enable kicking-ass, not kissing-ass.
Talk to me about
Onlyness, Social Era, Collaboration
People don't know I'm good at
Backpacking, or hand-making quilts.