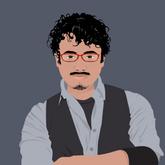 Anantha Shayana. D
Founder, CEO, RAYSITI Animations
Bio
3D, TVCs, Branding, Web, SEO, Print, Ads
Areas of Expertise
Ideas, Advertise anything, 3D Animation technology, Story, comics, Hobbyist Writer, Branding
An idea worth spreading
Yes! "An idea is worth spreading!"
A helmet for a 2 wheeler driver with a small Sim and motion detector (?) that will call his house if the helmet's met with a measured amount of impact or breaks! And of course with a timed system to deactivate the false alarm in case it has slipped and fallen from the rider's hand!
I'm passionate about
Anything I do! If not, I.don't.do.it. Period.
Universities
Talk to me about
Ted Talk Rules! Talk to me about anything!
People don't know I'm good at
My TED story
A friend of mine came to me and showed me a downloaded TED video featuring Pranav mistry and his 2-mouse-gadget! No words to explain. Went Flat. Came here. Registered. Eager to find out what's next!