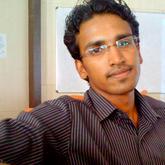 Balachandar Kaliappan
Assitant Professor , Sona College of Technology
Bio
Working as Assistant Professor with Sona College of Technology teaching subjects related to marketing. I am inquisitive in talents . I Love sports a lot.
I'm passionate about
Marketing Management, Technology, Human Resource Management and Arts.
Universities
Talk to me about
Marketing Management, Human resource management, Career plan, Global warming and other management related topics.
People don't know I'm good at
Athletics, Basketball and Cricket.
My TED story
When I was doing my MBA, Systems Professor Mr. Subramanian showed us a video which made everyone to think, and showed us how and where we would be in 2015. A speech by Pranav Mistry is projected on a white board, in that video he explains about sixth sense technology for about 18 minutes. Its no way related to me because I am an Horticulture graduate, but I could able to understand the core value and depth of the project. The presentation given was so simple where even a layman can understand. Seeing that again I started browsing for that video, some how I found the video on Youtube. At last I found that it was made available to everyone through an organization called TED. I searched about TED and found many more videos which is interesting and also informative.
One of my good friend Veeraraghavan who is pursuing his Masters in Power Engineering help me in understanding TED a lot.