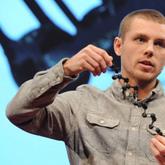 Skylar Tibbits
Principle and founder, SJET
Bio
SKYLAR TIBBITS is a trained Architect, Designer and Computer Scientist whose research currently focuses on developing self-assembly technologies for large-scale structures in our physical environment. Skylar graduated from Philadelphia University with a 5 yr. Bachelor of Architecture degree and minor in experimental computation. Continuing his education at MIT, he received a Masters of Science in Design + Computation and a Masters of Science in Computer Science.
Skylar is currently a lecturer in MIT's Department of Architecture, teaching graduate and undergraduate design studios and co-teaching How to Make (Almost) Anything, a seminar at MIT's Media Lab. Skylar was recently awarded a TED2012 Senior Fellowship, a TED2011 Fellowship and has been named a Revolutionary Mind in SEED Magazine's 2008 Design Issue. His previous work experience includes: Zaha Hadid Architects, Asymptote Architecture, SKIII Space Variations and Point b Design. Skylar has exhibited work at a number of venues around the world including: the Guggenheim Museum NY and the Beijing Biennale, lectured at MoMA and SEED Media Group's MIND08 Conference, Storefront for Art and Architecture, the Rhode Island School of Design, the Institute for Computational Design in Stuttgart and The Center for Architecture NY. He has been published in numerous articles and built large-scale installations around the world from Paris, Calgary, NY to Frankfurt and MIT. As a guest critic, Skylar has visited a range of schools from the University of Pennsylvania, Pratt Institute and Harvard's Graduate School of Design.
Skylar Tibbits is the founder and principal of SJET LLC. Started in 2007 as platform for experimental computation + design, SJET has grown into a multidisciplinary research based practice crossing disciplines from architecture + design, fabrication, computer science to robotics.
Skylar has collaborated with a number of influential people over the years including: Neil Gershenfeld and The Center for Bits and Atoms, Erik and Marty Demaine at MIT, Adam Bly at SEED Media Group and Marc Fornes of THEVERYMANY. In 2007, Skylar Tibbits and Marc Fornes co-curated Scriptedbypurpose, the first exhibition focused exclusively on scripted processes within design.
SJET is a direct result of an endless search for more...
Languages
TED Conferences
TED Fellows Retreat 2013, TED2013, TEDGlobal 2012, TED2012, TED2011
An idea worth spreading
The goal of my research is to design and deploy systems of self-assembly through materially encoded assembly instructions on large-scales (large number of parts or large scale-lengths). These systems are to be deployed on complex structures in our built environment – machines, buildings and infrastructure – offering a new paradigm of "computing through construction" – demonstrating self-assembly and reconfiguration through passive mechanisms.
I build prototypic structures that explore systems from 12' long robotic folding chains, 20' human-powered folding chains, NAND gate digital logic building components and 75' encoded tent pole strand structures. Each system explores self-assembly through encoded folding sequences, much like our Ribosome's decoding of RNA into fold sequences of complex proteins. This work imagines a world of encoded material parts that contain assembly instructions, actively aiding the user in quickly and accurately constructing complex structures.
I'm passionate about
Developing self-assembly technologies for large-scale structures by embedding assembly instructions directly into our material parts.
Universities