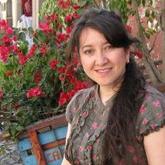 Rebeca Zuniga
Director of New Media Department, Universidad Francisco Marroquin
Bio
Publicist and Communicator, I have been working in the technology field​​ since 1996, I started working as Computer Sciences teacher to children from 4 to 16 years old.
In 1999 I started in the advertising field where I worked as commercial producer for TV and radio, commercial documentary, photography and foodstyling.
In 2003 I joined the New Media Department at Universidad Francisco Marroquín as digital video producer, I also was video production, digital video editing and graphic design instructor. Since 2005 I am the director of the department and take care of coordinating the work of production, Rich Media Site content http://www.newmedia.ufm.edu
I also have written articles on video production for Maestros del Web, an hispanic community of technology enthusiasts and I worked on editing some videos for the project 120segundos videoblog.
TED Conference
TEDActive 2013
Areas of Expertise
Web & Design, Video / Film Production
I'm passionate about
Disruptive technologies, video production, entrepreneurship and creativity
Universities