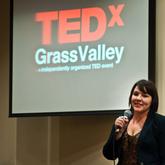 Jesse Locks
Festival Director, Nevada City Film Festival
Bio
I began my career in publishing; writing and editing stories mostly for music and action sports publications. My interests have evolved into multi-media including digital storytelling and filmmaking. I am first and foremost a writer, a TEDxOrganizer, Festival Director of The Nevada City Film Festival, and Co-Founder of See Jane Do a multi-media program about Everyday Women Doing Extraordinary Things for the Planet, Co-Founder of the Passion Into Action Women's Conference. I am also in pre-production on my first film. This is my fourth TEDx event. I love bringing these fantastic stories and talks to my small town and sharing my small town's fantastic talent and stories with the rest of the world. Even though we are a small town, we have big ideas!
TED Conference
TEDWomen 2013
I'm passionate about
I'm passionate about storytelling. And fascinated with the many possibilities to share stories and ideas.
Universities