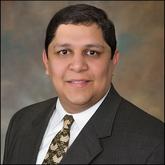 Bio
Dr. Raj Menon has often been described by others as being helpful, enthusiastic, professional, hard-working, bright, networked, visionary, intelligent, candid, creative, and also as being an outside-the-box thinker, a great mentor, and a challenging instructor. He likes the term 'mixologist.'
Raj has a multi-faceted background with over twenty years of experience in diverse areas ranging from marketing, consulting, and non-profit organization management, to engineering, technology, operations analysis and education as well as sales and account management.
Dr. Raj Menon is President and Chief Creative Officer at Flat World Design. In that capacity, he manages all aspects of running a promotional marketing agency which helps medium-sized companies increase sales, motivate employees, retain customers, promote safety and build their brand.
Raj also serves on the Advisory Board of the Medical Center of Plano and on the Board of Directors of the Plano Symphony Orchestra. In 2012, he is serving his fourth year and as the 2011-12 chairperson on the Diversity Advisory Committee at the Plano Independent School District (Plano ISD). He also serves on the Steering Committee for Plano ISD's upcoming PBL academy which will be an exciting new foray into the world of 21st century education for kids.
He is a member of the American Advertising Federation (AAF Dallas), Promotional Products Association International (PPAI), and as the marketing chair and board member of the Promotional Products Association Southwest (PPAS). Raj is also a founding board member of the Indian Institute of Technology (IIT) Alumni Association of North Texas (IITNT).
Raj was graduated from the Indian Institute of Technology (IIT) and holds MBA and Ph.D. degrees from The University of Texas at Austin. He lives in Plano, Texas with his wife, their son, and their Zuchon, Dusty.
An idea worth spreading
Twenty first century learning for all kids all over the world.
I'm passionate about
I am passionate about Learning, Education, Diversity, Ideas, People and Connections.
Universities
Favorite talks