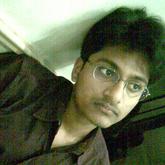 Abhishek Baikadi
Teaching assistant, IIT Madras
Bio
Chemical engineering | IIT Madras | Masters | Control | Optimization | Bachelors | NIT Calicut | Web Designer | N7W Champion | Volley Ball | networking | TEDxNITCalicut
Areas of Expertise
Cooking - vegetarian, vegan, raw, Banking, Chemical engineer
I'm passionate about
technology, speed, make people laugh.
Talk to me about
Students life, social empowerment, new ideas for better life, web design, Funny part of life
People don't know I'm good at
My TED story
well
i started watching TED when got bored of movies and tv serials in 2009.
From then i've watched many ted talks, though never got a opportunity to attend one.
Now in 2011 , my 3rd year of UG course, along with my friends
planning to organise a TEDx event in our campus, NIT calicut , India
According to me, TED is a great organisation spreading ideas to world.
But the sad part is this mainly helps the one having reach to virtual world.
All I want to do in future is, That to take TED to one who cant afford for a internet facility and so on. Ideas on work...lets see what i'll end up with .