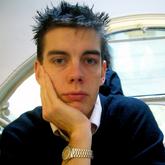 Mark Whiting
Ph D Candidate, KAIST University
Bio
I'm a PhD student at CMU. I work in design, innovation, strategy, and a range of other topics. You can find out more about me here: http://about.me/markwhiting
Areas of Expertise
Design Thinking, Innovation Strategy, Business design & strategy, User Innovation
An idea worth spreading
I think the value of appropriation of decision making in design or any other context is probably the one thing I think would benefit the world most at the moment. I think many of the problems we currently face are due to solutions that have been designed too generally and without consideration of details. I think we need a new model of thinking and doing, one that supports better awareness and use of knowledge and one that revolves around the creation of really appropriate solutions.
I'm passionate about
Almost anything that is being done well.
Talk to me about
I am really interested in just about everything. I think anything that is being thought about passionately can be wonderful.
People don't know I'm good at
Sudoku, graphical mathematics, sewing
My TED story
My TED story so far is that every time I watch a great talk it changes my life a little. It makes me glad that there are so many people doing such wonderful work and I think about how great the future is going to be. I feel TED does a good job of representing, both in the talks and in the overall ideology, the greatness of what the world is becoming, through the help if many dedicated people.