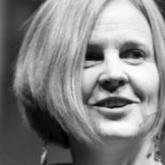 Diane Benscoter
Author - "Shoes of a Servant", Salient
TED Conferences
TEDWomen 2013, TED2011, TED2010, TED2009
Talk to me about
Peace Memes, longevity, your passions
My TED story
I discovered TED nearly 10 years ago while searching for signs of intelligent life in the universe, as Lili Tomlin would say. It immediately became a life goal to attend the conference.
I had the great honor of attending TED, and also presenting a short TED talk at TEDU in 2009. My talk was about about the 5 years I spent inside a religious cult in the early 70s and the subsequent 5 years spent as a deprogrammer. In the talk, I drew a parallel between what I had been through and extremists such as suicide bombers.
In 2010, I attended TED Active. It was WONDERFUL!! I will be back in Long Beach this year but highly recommend either.
Attending TED feeds me like nothing else could. It's not just the talks, but also the attendees that make the week so spectacular. I now know there is intelligent life - very intelligent life, and very inspiring life on this planet. Because of TED I am convinced we are evolving toward peace on this planet.