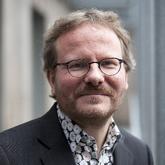 Arthur Turksma
Creative Director, Triptic online communication
Bio
Educated as an architect, Arthur Turksma is 'into the internet' for almost 20 years. Running triptic, an internet agency based in Eindhoven, the Netherlands, since 1997. The 20+ staff develops interactive experiences (sites, intranets etc) for mainly larger companies, hospitals and government. Projects range from an interactive digital museum with hundreds of thousands objects to social intranets for thousands of people. Arthurs passion for brainstorming and presenting lead to an addiction of watching TED talks. He co-founded TEDxBrainport in 2011, to turn his addiction into something usefull for the community of the Eindhoven region. He also mentored other TEDx events in the area.
TED Conference
TEDActive 2012
Areas of Expertise
Concept & Idea Generation, Brainstorming, Creativity, Open data, TEDx, Entrepeneur, Web / GUI Design, UX Design, Internet strategy, presenting, curiousity
Universities
Talk to me about
Your passion. Peoples stories are fascinating, whether from factory workers or professors. I am curious by nature, and therefore always hungry for brain food.
My TED story
Inspired by TEDTalks for many years, I decided to gather inspiring people to organise TEDxBrainport. It was an amazing journey, and great to see so attendees, speakers and organisers enjoy discussing new ideas worth spreading!