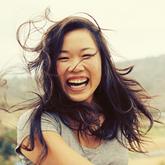 Liz Song
Designer - Graphics, Web, UI / photographer / artist / humanitar, HopeLab
TED Conferences
TEDActive 2013, TEDActive 2012, TEDActive 2011
Areas of Expertise
Exploration, Photographer, Running, Swing Dancing, Design & Communications
I'm passionate about
community, curiosity, & joy.
Universities
Talk to me about
what is/was your process in finding your voice?
People don't know I'm good at
people don't know that i'm good at bowling.
My TED story
I knew I had to be at TED when I heard the theme "Rediscovery of Wonder (2010)." When I saw that TED Long Beach was sold out, TEDActive and I met....and we sort of fell in love.