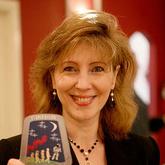 Bio
Tatyana Kanzaveli has broad experiences in sales/marketing/business development, technology and professional services. She held executive roles in number of start-ups and large multinationals.
Tatyana is the Founder and CEO of Open Cancer Network. She is also a mentor at 500Startups.
She is an organizer of Bay Area Executives meetup (http://www.meetup.com/BayAreaExecutives) and organizer of TEDxBayArea (http://www.facebook.com/TEDxBayArea) .
TED Conferences
TEDActive 2013, TEDActive 2012
Areas of Expertise
Sales - Marketing, Social Media & Social Networks, Tech Evangelism, Event and panel moderator, Speaker/Lecturer, Events Planning/Organizing, Workshop and seminar presenter, Entrepeneurship, Women Entrepreneurs & Innovators, Start up and business mentoring