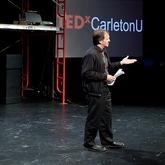 2010TEDx CarletonU
Founding Partner, True Innovators, True Innovators
Bio
Luc specializes in the design-build and execution of community-based innovation programs tailored to a region's unique assets and capabilities. These innovation programs are typically crafted to work with local partners (corporate and institutional) and volunteers in both the private and public sectors, foundations and venture philanthropists.
I'm passionate about
ideas that drive innovators.