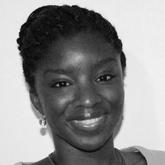 Aissatu Sila
Institute of Science and Technology of Guinea-Bissau
Bio
I'm a leader, but I'll follow you if you inspire me.
I'm a manager of people, things and situations.
That's not just what I do very well, it's who I am.
I love success. My life has been full of interesting challenges that made a confident, fast learner problem solver.
So far, I've lived in four countries and I speak five and a half languages. I look forward to increasing those numbers in the next years.
I'm very curious and find it hard to stop once I'm motivated. And I'm often motivated.
My main goal right now is to join (or create) a company that allows me to help accomplish big things while developing my skills and becoming the person that I want to be.
What else should you know about me?
I enjoy watching movies, documentaries and TED Talks. I read and travel as much as I can. I like fishing, even though I haven't caught a fish yet. I also write short stories and cross stich.
What about you?
Languages
Areas of Expertise
Africa Business Management, Women Empowerment, Strategy & Leadership, Human behavior and motivation, e-learning / education , ICT Business Development in Developing Countries, STRATEGY & VISIONING, West African affairs, TIC & Education, Self -Development & Coaching
I'm passionate about
Life, people, details, nature, ideas, the past, present & future, cultures, traditions, dreams, children and childhood, businesses, innovation, technology, society, causes and consequences, ...
People don't know I'm good at