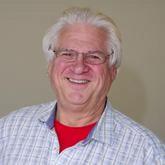 Leland "Lee" Larson
President, The Larson Legacy Foundation
Bio
I love learning. I love TED. One speaker referred to TED as "ideas having sex!" Right on! TED is contageous, moves me to action. I feel so re-inspired after a gathering. Grateful as well. I learn. Now, having retired (an dubious expression?), I get to serve others, often by means of a foundation I created . There are a few family members and friends involved. We want to help make the world a more compassionate, kinder place. Having seen a few "new years" (and this is the day!), lots of my path is so now visible to me when I look in the mirror. The past sort of created the "me" of now and its perambulations make more sense to me now. My working in the fields as a youth, doing odd jobs. Brief stints in teaching and politics. My travels. Most of all, learning to "vision" and risking my livelihood in pursuing my dreams during my business years. It became a shared and more of a co-creation as everyone became involved in knowing that living one's dream is possible. We had, so it seemed, unlimited power to do about anything and it was fun! And, here I am--doing a most glorious retirement job as well. Of late, supporting a new homeless encampment right in the middle of Portland, getting to do some laundry for "occupy." And, being part of this soup........ living the mystery. Namaste.
TED Conferences
TED2015, TEDGlobal 2014, TED2014, TEDGlobal 2013, TED2013, TEDGlobal 2012, TED2012, TEDGlobal 2011, TED2011, TEDGlobal 2010, TED2010, TEDGlobal 2009, TEDActive 2009, TED2008
Areas of Expertise
Learning , Being, Giving Back & Helping Others
An idea worth spreading
If it doesn't bring you joy, why are you doing it? ("If you don't have a sense of humor, it's just not funny" courtesy of Wavy Gravy) Bee Here Now!
I'm passionate about
Philanthropy, basketball, bees, my most challenged puppy ("Karma"), my chickens, obesity issues (lap band surgery anyone?), homeless folks, relationships, internet dating, ping pong, dancing,fun....
Talk to me about
You--what makes you feel truly alive. Your passions, your loves....
People don't know I'm good at
Beekeeping, coaching basketball , facilitating energetic, inspirational group games, and just playing and loving in this most precious dance.....
My TED story
II love learning -- curious about everything. TED gives me joy. I am forever grateful to Dr. Larry Brilliant, a former prizewinner (etc.), for introducing me to to this most lovable "contagion." I learn from TED and its fellowship. And, I get to apply some of those learnings. That's satisfying and fun for me, it makes me feel so alive being out there and in here. I'm grateful.