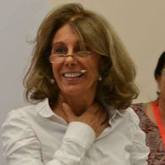 Nicoletta Iacobacci
Curator@TEDxTransmedia, EBU, Head of Media Strategy
Bio
Italian with a B.A. in Fine Arts, moved to US where she stayed until 2002. Producer/reporter covering US and Central America; in 1987 got a MCA at New York Institute of Technology, majoring in Computer graphics and studying the convergence between Radio/TV and online properties. Managed several R&Ds digital labs in both the US and Italy, while teaching Interactive storytelling and production. Today she's Head of Strategy and Future Media at the European Broadcasting Union (the organization of 80 public service broadcasters around the world.) PhD researcher at the European Graduate Studies (www.egs.edu), she coordinates and supports the most interesting and innovative TV professionals of European Public Service Media (in Europe, public broadcasters are the leading TV players in almost every country) in order to create a call-to-action for shaping the future of a socially responsible public service media. This year she has been elected member of the International Academy of Television Arts and Sciences.
TED Conferences
TED2013, TEDGlobal 2012, TED2012, TEDGlobal 2011, TED2011, TEDGlobal 2010, TED2010
Areas of Expertise
Technological Innovation, Transmedia Storytelling, Innovation - Ideas into Action, Creativity and Design, Human evolution, Pervasive Media
I'm passionate about
Human Evolution, the Brain, Media in aPosthuman echosystem.
Talk to me about
Yourself and your passions, New Ideas, Human Evolution, the Brain, sailing and ...making wine.
People don't know I'm good at
cooking, laughing, listening, leading, creating, inventing