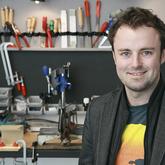 Fabian Hemmert
Design Researcher, Design Research Lab
Bio
Fabian Hemmert is a design researcher. Fabian is considered to be one of the world's leading experts on mobile innovation and a cricitally acclaimed speaker on human-technology interactions. He investigates future interfaces between people and machines.
Fabian's work focuses on interfaces that embrace the human body and integrate haptics, shape change and physical motion into the interaction. His work is also concerned with the psychological and emotional side effects of mobile phone usage, often transforming people into 'smartphone zombies'.
Following the approach of 'research through design', Fabian's work often draws on tangible prototypes. Fabian's talks generally involve a high degree of lively audience interactivity.
Driven by ideas and curiosity, Fabian investigates the mobile phone of the future.
TED Conference
TEDGlobal 2010
Areas of Expertise
Design, interaction design, Innovation
An idea worth spreading
It's my fear that, at least psychologically, we might transform into cyborgs, unable to exist without the machines that have become part of us. That must not happen. I believe that it is of utmost importance that, in the future, we do not turn into computers, but stay human.
I'm passionate about
Intertwining theory and practice in 'research through design' - building things we might have in the future, letting people try them out today.
Talk to me about
Humans (rather than about computers).
People don't know I'm good at
**** ******** ****** *****.
My TED story
Through a series of counter-intuitive, optimistic, non-rational decisions and accidents, I ended up at the stage of TEDxBerlin, giving a short talk on my work.
Five minutes. They changed everything.