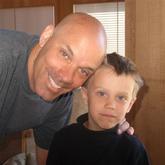 Barry Friedman
Co-Director, Boys to Men Mentoring Network
Bio
OK... I've put this off long enough. I'm a juggler - there, I said it. No fancy letters after my name. No pieces of paper from institutes of higher thinking. I'm a comedy juggler and I've been blessed with the most wonderful life because of it. (Does this really have to be one long paragraph? Enter not working!) I had a devastating childhood - no kid should have to go through what I did. At 15 my grandma sent me to a summer camp and out by the pool one afternoon, a man taught me to juggle. It was the first time I felt like there was a reason for me to be on the planet. I never looked back. Two world championships, thousands of shows all over the world - most of those for corporate audiences at sales meetings, conferences, product launches, trade shows, or award banquets. In 1982 I hooked up with my partner, Daniel Holzman and we formed the Raspyni Brothers - it's never stopped. We've been blessed with over 100 national TV shows (back in the day when you could just do your act - we didn't have to be lit on fire, eat a snake, or stand in a pool of gasoline), and a 1/2 dozen invitations to the TED Conference. I've started two online membership sites for entertainers where I show them what it takes to master the business of show business. That's allowed me to give back to an entire community of people that I see as victims of their own creativity - great acts/skills and no idea how to do the marketing/selling. I am father to a boy I love more than my words can say - I'm sure there are poets that could do my feelings justice. Suffice it to say he's why I do just about everything I do. My wife of 25+ years is a creative wonder and she fills in everything I don't have. We are in love because we have done the work. We've gone through many events and struggles that anything seems laughable now.
An idea worth spreading
Leading experiences that introduce boys to emotional intelligence between the ages of 9 and 12. Leading rite of passage experiences for boys 13-17. Letting them know that when the time comes, it's a good thing to be a grown up man.
I'm passionate about
Men's Work - the ManKind Project. Showing other entertainers how to quit whining about business and showing them how to book their act. Boys Initiation - Boys to Men International.
Talk to me about
Comedy, rites of passage, writing, travel, being a dad, mentoring, running, biking, swimming, entrepreneurship, membership websites, online learning, corporate entertainment
People don't know I'm good at
I'm a two-time Tough Mudder - and will do more these races. Very challenging. Cooking!
My TED story
I turned down my first offer to appear at TED X back in 2000 because it didn't pay :) Richard Saul Wurman sent me a Fed Ex package showing me what it was and I called back and asked if the offer still stood. I learned a lot about value from that experience. Since that time I have been lucky enough to grace the TED stage 4 other times and looking forward to my 6th time in 2014. I'm humbled and touched that something I love so much (performing comedy) is recognized by such an awesome conference/event.