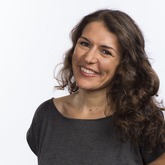 Adital Ela
S-SENSE DESIGN ; HIT - Holon Academic Institute of Technology
Bio
Israeli designer incorporating indigenous knowledge into sustainable design.
Adital runs "S-SENSE DESIGN" (www.s-sensedesign.com), an active sustainable design studio, promoting various projects with companies, non-profit organizations and social groups.
She has a BA in product design from HIT- Holon Academic Institute of Technology in Israel and a Masters of Design from the "Man and Humanity" masters program at the Design Academy Eindhoven.
Adital teaches sustainable design at the social-environmental design study program at the Faculty of Design at HIT. She has lectured at many conferences and led several workshops in various countries, including Mexico, Brazil and Europe, touching upon various aspects of design for sustainability.
Adital was born in Jerusalem in 1974.
She has lived in Tel Aviv for the last 15 years with long periods of residence in Germany, India and The Netherlands.

An idea worth spreading
http://www.youtube.com/watch?v=ajajtoTD2Fg