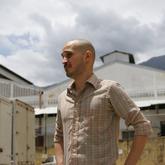 Lope Gutiérrez-Ruiz
Founder / Co-Director, The Gopher Illustrated
Bio
Arts manager, editor, writer and co-founder of Gopher Magazine, the Por el Medio de la Calle festival, and the Platanoverde Foundation, a platform for emerging artists in Latin America. Founding member and partner at In-House Int'l, a design and communications studio based in Austin, TX. Currently working on City Script: Austin, a project that connects storytelling and public art in a massive scale. More info available at: weareinhouse.com and gopherillustrated.org .You can reach me at: lope [at] weareinhouse.com or lope [at] gopherillustrated.org
An idea worth spreading
Being part of a community means that supporting others is as important as supporting yourself.
I'm passionate about
Cultural Management.
Publishing.
Visual Arts.
Literature.
Latin America.
Design.
Talk to me about
Arts and Culture, Magazine Makin', Latin America. Latin America and the USA.
People don't know I'm good at
Making pancakes, my girlfriend likes to say that I'm a "pancake whisperer".
My TED story
It all started in Oxford as a TED Fellow in 2010!