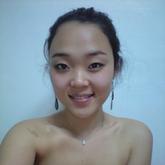 Jessie Park
translator/student, Chungnam National University -English Lit./Communication -BA
Bio
I want to live my life fullest. I don't like people calling their dream "job" as a dream. Dream is supposed to be something which defines you, not some kind of professional skills you may have. Also I'm very interested in women right and environmental problems. I hope I don't regret my life when I'm dying.
Universities
Talk to me about
Journalism, women right in Asia, books, music, movies, and dreams.
People don't know I'm good at
My TED story
I organized TEDxDaejeon as a translator. It was a life changing moment for me. I saw many people inspired by our speakers and view their lives thru somewhat different angles. That inspired me even more and I decided to share more. I'm very excited to attend the first event of TEDWomen and hope I can share more ideas with people from all over the world.