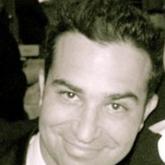 Bio
I like doing stuff and making something out of nothing. I've started three companies from the "third bedroom" or "garage" on a credit card. I've been married three times, two kids from two different moms. It's a challenge everyday, but I love my sons and I love what I do. My passion for creating runs deep and I like to build extreme companies. 2012 will be my third consecutive TEDActive. I'm also a TEDxer and co-produced TEDxAmericanRiviera "Imagine that..." on 10/10/10 in Santa Barbara at the Bacara Resort and Spa. The 11/11/11 event "The spark within..." will be held at the Music Academy of the West in Montecito, California. I also stay very active in local school functions, sponsorship of local youth sports teams and I have a hard time saying no.
I've been profiled by numerous publications including the Wall Street Journal, Mobile Enterprise Magazine, the Orange County Register, PC/Magazine, Windows2000 Magazine, the Montecito Journal, the Santa Barbara News Press, Pacific Coast Business Times and others. I was named a Who's Who in Technology and made the 40 Under 40 list in the Pacific Coast Business Times and I have made semi and finalist in the Entrepreneur of the Year categories for Ernst & Young, PriceWaterhouse Entretech and the Technology Council of Southern California but I've never won it! I'm a former board member of the Technology Council of Southern California and the Teddy Bear Cancer Foundation. I'm also a regular speaker at USC's, Marshall School of Business presenting the USC/Make It Work, Inc. Case Study to MBA candidates and UCLA's Anderson School, Entrepreneurship Institute. I love to talk, so this works for me.
I have two amazing sons, Jacob (15) and Jackson (2). We live in beautiful Montecito, California (part of Santa Barbara). I golf, wakeboard, cook, eat, travel and live life to its fullest.
TED Conferences
TEDActive 2011, TED2010
Areas of Expertise
Public Speaking, Motivating, Visionary, Change Leadership, Technology as a management tool, social networking
An idea worth spreading
Imagine if every business was built with passionate excellence first, then profit...
I'm passionate about
I'm into Stress-free Digital Lifestyles and Mind Blowing Customer Experiences. I also enjoy opening cans of worms.
Universities
Talk to me about
Dumb, lazy companies. Extreme customer service. Mind blowing customer experiences.
People don't know I'm good at
My TED story
Since learning about TED, I've built many new relationships stimulated by discussion about TED. I'm no longer a TEDVirgin and loved my first conference. I'm a little embarrassed it took me so long to get involved in TED. I've recently hosted TEDxAmericanRiviera in Santa Barbara, California. It was a truly amazing day and the process leading up to it, also great. Can't wait for 2011!