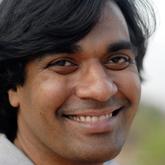 Kiruba Shankar
CEO & Founder, Business Blogging Pvt Ltd
Bio
Kiruba is CEO of Business Blogging and Director of F5ive Technologies.
He is the Indian Ambassador for TEDx and helps assist with organizing TEDx events across India.
He has published books on Crowdsourcing, Wikipedia, Unconferences and Personal Branding.
He was on the Governing Board of RangDe, a peer to peer funding initiative supported by ICICI Foundation for two years.
In his earlier job, he was Associate Director at Sulekha.com. He has 15 years of experience in the Internet space.

Kiruba is one of the founders of The Knowledge Foundation, the group behind successful events like BlogCamp, India's Biggest Unconference on Blogging and Proto.in, premiere event showcasing startups.
Kiruba loves teaching and has taught at Asian College of Journalism, Anna University, Madras Advertising Club and SRM University. He has lectured on Social Media at IIM Kozhikode, IIM Bangalore and IIT Madras.
He has authored technology columns at the New Indian Express and Business Standard Newspaper .
He is a professional podcaster and hosts a show at http://Kiruba.TV where he interviews achievers from different fields. BusinessWorld Magazine ranks his blog www.Kiruba.com as one of India's top blogs.
Kiruba is a rowing champion and has captained the Sify Rowing Team to four championship titles. He has participated in Chennai and Bangalore marathons.
Kiruba can be reached at +91 9841597744 and Kiruba@Kiruba.com.
TED Conferences
TEDActive 2011, TEDGlobal 2010, TED2010, TEDIndia 2009
Areas of Expertise
Social Media
An idea worth spreading
Bio-degradable soaps and detergents.
More than all the automobiles and factoring, the biggest pollutants are more closer home. Its the sheer amount of soaps and laundry detergents that we use. Every time we take a bath or wash our clothes we dump a lot of harmful chemicals into the very ground that we eventually pump out water. Its like shooting our own feet. We pollute the very water we drink.
An idea worth spreading would be to create bio-solluble and eco-friendly soaps and detergents.
I'm passionate about
Identifying achievers from diverse fields, Tree Planting, Rowing, Marathons, Blogging, Podcasting and authoring books.
Universities
Talk to me about
Talk to me about anyone who is an achiever and doer. I'm a big fan of people who follow their dreams and make them happen. I host an annual event called http://www.Cerebrate.in
People don't know I'm good at
bartending and cocktails. I can whip out some mean concoctions.
My TED story
I'm one of the co-organizers of TEDxChennai http://www.TEDxChennai.com