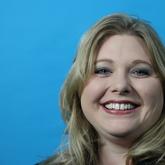 Meghan Parsons
DIRECTOR of DEVELOPMENT, Corning Children's Center
Bio
I am a TED fanatic! I was lucky enough to attend TEDActive 2009, 2010 & 2013 and TEDxSummit 2012. As the event Licensee & Curator for TEDxChemungRiver and TEDxChemungRiverSalon, I live, breathe and love TED and TEDx.
Languages
TED Conferences
TEDActive 2013, TED2010, TED2009
Areas of Expertise
Fundraising & Development, Event Organizer/Event Planner, Community Development, Volunteer Management, Inspirational Leader
I'm passionate about
Helping others develop through discovering what they are passionate about so they can make positive impacts on the world and be the best they can be.
Universities
Talk to me about
What you are passionate about. And how TED has changed your life.
My TED story
On September 24, 2007, Netflix shipped the documentary "TED: The Future We Will Create" to my home. Little did I know then that my life would be forever changed and enhanced by TED and the TED community. The last five years have been filled with exciting conferences, meeting amazing people from all over the world, receiving awesome books in the mail, watching TONS of TEDTalks, being a part of something that is changing the world for the better and organizing TEDxChemungRiver. I cannot imagine my world without TED. I am so thankful...