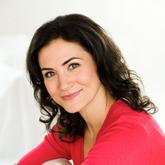 Susan Biali
Blogger/Author, Psychology Today
Vancouver (If Not On A Plane!),
Canada
Bio
Dr. Susan Biali is an award-winning medical doctor, life coach, media wellness expert, author, speaker, and professional flamenco dancer. Formerly a sick, depressed Emergency Medicine resident, Dr. Biali took back her own life and health by learning how to balance her life, listen to her body, and create a life truly worth living. Today, Dr. Biali teaches others how to discover themselves, create vibrant health, and design a life that they love.
Frequently featured in media across North America, Dr. Biali is the Embrace Life Expert Coach for Reader's Digest Best Health and also blogs for Psychology Today. Her opinions have been featured in Self, Fitness, Cosmopolitan, Redbook, Health, The Washington Post and the Chicago Tribune. She has appeared on ABC, CBS, and NBC affiliates across America, as well as CTV, Global and CityTV in Canada. Dr. Biali had her own flamenco and salsa dance company in Los Cabos, Mexico for several years. She performed for high profile and celebrity audiences including the owners of the Dallas Cowboys and the Los Angeles Lakers, and was invited to teach notable celebrities such as singer/songwriter Pink how to salsa..
Susan speaks professionally across North America and is a member of the Canadian Association of Professional Speakers and the International Federation for Professional Speakers. Her book , Live a Life You Love: Seven Steps to a Happier, Healthier, More Passionate You, was published in 2010 by New York's Beaufort Books
Areas of Expertise
Health & Wellness, Life Coaching, Life in Balance, Nutrition & Health, Dance, achieving one's potential
I'm passionate about
Living the rather bizarre but delightful life that I was made to live, and freeing and teaching as many other people as possible around the world to do the same.
Universities
Talk to me about
Surprising and inspiring success stories and triumphs...as well as fascinating experiences and facts re. positive psychology, self-actualization and God.
People don't know I'm good at
Making tortillas by hand; domesticating a Mexican rescue dog with an outrageous personality; packing an incredible amount of books into a suitcase yet maintaining its weight at exactly 49.9 lbs.