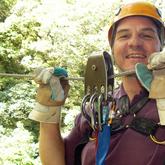 Pat Parris
Pennsylvania Leadership Charter School
Bio
I was a Sales Manager for the United States Chamber of Commerce for 17 years.
I started my own government procurement trade show company on military bases.
I have sold advertising and concepts like memberships and insurance for the past 25 years.
I currently teach at Pennsylvania Leadership Charter School. It is a cyber school K-12 and I run the Leadership Center there. I teach six classes associated with this center.
Student Leadership (Partnership with the Points of Light Youth Leadership Institute)
Civic Leadership ( Partnership with Student Government)
Career Awareness ( Partnership with Career Cruising )
Career Exploration ( Partnership with Career Cruising )
Starting a Home Based Business ( Partnership with West Chester University of PA 3 E Institute.)
Panama Group Service Learning. ( Partnership with Habla Ya Language School in Boquete, Panama.)
Areas of Expertise
Leadership, entrepreneurship, History, Political Science
An idea worth spreading
Cyber School and group service learning on high school student trips.
http://www.dosomething.org/project/create-and-develop-education-festival-tri-lingual-readers-and-a-mime-skit
I'm passionate about
Student directed learning
Talk to me about
I am interested in doing more group service learning projects in foreign countries.
People don't know I'm good at
Not eating the marshmallow.
My TED story
My students have been participating in a service learning project in Panama for five years.
The first year we painted a mural on elementary school in an indigenous village
The second year we helped do maintenance work around a catholic mission and school for the indigenous and we donated a computer lab.
The third year we brought and installed a water purification system for a coffee plantation. We also held an education rally in the town square. The students were able to work with local businesses to contribute food for 200 people to eat and learn about educational opportunity.
The forth year we duplicated the education rally and printed 400 tri-lingual coloring books to distribute in indigenous reservation, and the mission and town that we visit.
The fifth year we completed our education rally again and expanded the tri-lingual coloring books to phrases. The original mural that we painted appears on the cover of these books.