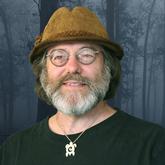 Bio
Paul Stamets is deeply concerned about ecological collapse and extinctions. He is an inventor, researcher, entrepreneur, and has authored six mushroom-related books. Several are used as textbooks around the world by the gourmet and medicinal mushroom industries. He has taught more than 2000 students in advanced tissue culture techniques. His extensive culture library of fungal strains, many of which are isolated from old growth forests, have been tested and provided results that could be game-changers for helping human and habitat health. He is the founder of Fungi Perfecti, LLC (www.fungi.com, www.fungi.net, www.hostdefense.com)
He has been awarded 8 patents with more pending. Paul has received several environmental awards. In 2008, Utne Reader recognized Paul as one of the 50 Visionaries of the Year. In 2010, he received the President's Award from the NW Society of Ecological Restoration. He was also recognized by National Geographic as s 'Green-o-vator'. In June of 2013, Paul received an honorary, accredited Doctorate of Science degree from National College for Naturopathic Medicine. In January of 2014, he received the North American Mycological Association (www.namyco.org) lifetime achievement award for his contributions to amateur and professional mycology.
Paul is an advisor to the Program of Integrative Medicine at the University of Arizona Medical School, Tucson; on the Editorial Board of The International Journal of Medicinal Mushrooms. Many physicians recommend his products for enhancing immune defense. Stamets is the supplier and co-investigator of the first two NIH funded clinical studies using medicinal mushrooms in the United States and in 2010, a NIH funded clinical trial showed positive results of his medicinal mushrooms used as adjunct therapies helping immune recovery in breast cancer patients. He is currently collaborating with NIH/Virology and the CDC mycotics disease divisions.
He holds 7 patents on using mycelium to control insects, and most recent patent (Aug 2013) issued, all of which have the potential of replacing most chemical pesticides with a nature-morphed solution that not only can protect crops and buildings but also limit disease vectors carried by insects. Working with gov't laboratories, he has identified a new group of powerful antiviral compounds, particularly from the old growth mushroom Agarikon which he believes holds a reservoir of medically significant compounds. HIs latest patent (March 2014) focuses Agarikon mycelium extracts and components active against avian, herpes viruses and pathogenic bacteria: staph, E. coli, and TB. Working with the Institute for Tuberculosis Research at the University of Chicago, Paul and colleagues have discovered a group of anti TB coumarins. His newest patent application utilizes mycelium to help bees overcome Colony Collapse Disorder (CCD).
Paul's fungal strain collection is extensive and unique, with many of the strains coming from old growth forests,
Married to Dusty Yao, whose shares a passion for fungi, and love of the old growth forests.
His latest book, Mycelium Running: How Mushrooms Can Help Save the World, describes the use of mycelium for planetary healing. His other books include The Mushroom Cultivator, Growing Gourmet & Medicinal Mushrooms, Psilocybin Mushrooms of the World (Paul's work on this subject was covered by a DEA license) & MycoMedicinals. His new book, a work in progress, is The Medicinal Mushroom Guide, due out in late 2014.
Paul invented "The Life Box" (www.lifeboxcompany.com), is a clever and simple solution to empower individuals to help offset climate change and re-green the planet. The LIfe Box has hundreds of tree seeds and mycorrhizal spores infused into the corrugations of the box which sprouts a tree nursery upon activation. Paul has received numerous awards and honors for his contributions to the science of medicinal mushrooms and ecology. His TED (2008) talk "How Mushrooms Can Help Save the World has been rated in the top 10 of all TED talks, and viewed more than 2,400,000 times. His TEDMED (2011) introduced medicinal mushrooms to more than 800 physicians. Both TED and TEDMED talks have received 99% positive reviews on youtube and as rated by Quora as the one of the best TED talks to date based on youtube.com votes.
His current research is using medicinal mushrooms to augment conventional therapies by immunopotentiation, activating innate regeneration of nerves, exploring for new antivirals. Several mycoremediation projects are on going. Research into protecting bees is planned for 2014. A central premise of his work is that habitats and humans share immune systems and mycelium is the cellular bridge connecting us. Paul believes time is short. Now is an 'all hands on deck' moment to respond to the ecological collapses occurring before us now.
TED Conferences
TED2015, TED2014, TED2013, TED2012, TED2011, TED2010, TED2008
Areas of Expertise
mycology, mycofiltration, mycoremediation, tissue culturing
An idea worth spreading
Fungal networks, mycelium, has inherent properties useful for addressing issues of water cleansing, bioremediation, habitat resilience, disease mitigation, and strengthening foodwebs. After hundreds of millions of years of evolution, the kingdom of fungi represent a largely untapped resource rich in solutions of paramount importance today.
Habitats have immune systems that are fortified by mycelial networks setting the stage for supporting microbial communities and the bidirectional flows of nutrients to the benefit of the plurality of species in ecosystems. Mycelium is the foundation of the food web, our genetic ancestors, and learning of their evolutionary roles can help navigate towards a healthier future.
Mycelium can cover thousands of acres, and is primarily composed of carbon rich sugars which can be converted into alcohols such as Myconol. Moreover, mycelium sequesters carbon dioxide through production of glomalins & oxalates, making soils, reversing global warming
I'm passionate about
Saving the Earth by re-investing in fungal networks, that build soil banks, supporting food webs, and preserving biodiversity. I believe mycelial membranes can prevent diseases and viral pandemics.
Talk to me about
How to prevent global pandemics and prevent extinctions. What can be done across the globe in using mycorestoration technlogies/teacher training centers based upon my book Mycelium Running
People don't know I'm good at
Using fungal networks for solutions to reverse global warming, renewing soil, filtering water, breaking down toxins, mitigating diseases spreading from habitats to human, ehnancing immunity.
My TED story
Mycelium ! Many of the solutions that challenge us today have solutions which are literally underfoot - the vast network of fungal cells, Mycelium, that are only one cell wall thick and yet one fungal organism can cover thousands of acres, achieving the largest mass and size of any lifeform on Earth. These fungal networks are in constant biomolecular communication with the ecosystem, and develop host defense strategies against the billions of microbes that in constant contact with mycelium. That these mycelial networks survive is a testimonial to innate ability to intelligently respond to catastrophia. We can learn from the innate intelligence of these networks, and in doing so, tap into what I believe is a form of natural intelligence. We need to listen to nature, and these mycelial networks have much to teach us - as they are- our ancestors. We share a common ancestry with fungi than we do with any other organism. See Mycelium Running, How Mushrooms Can Help Save the World.