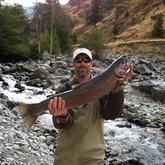 David Flowers
CEO, True Cures Research Foundation, Inc
Bio
I started my career in natural medicine and I quickly discovered that all natural medicine is based 100% on placebo. I took it upon myself to understand "placebo". I needed to know why a sugar pill could heal a person of a disease "believed" to be incurable and I soon discovered that behind every placebo effect is a communication between mind and body, possibly electrochemical signals that have been sidelined due to our destructive loyalty to technology. products and gimmicks.
It was clear the sugar pill, gadgets and other products had no healing property whatsoever so I started working on duplicating the signal that empowers a placebo and through 20 years of developing I can righteously say that man is designed to be fully in control of their own immune system.
All anyone has to do to obtain full immunity to disease is learn to create the "electrochemical" signals that power and control immunity. This signals should be involuntary but through the sabotaging effects of misplaced loyalties and reliance on ineffective medicine, both natural and western man has lost all natural ability to guide and control immunity subconsciously as intended.
All anyone needs to be immune to all disease is a solid reminder and the only way to remind a body of what it was once capable of is to offer it an example. Let the body witness the proper "electrochemical" signals which would have happened had our parents and grandparents not stepped off the path of natural health in favor of man made ineffective medicine.
An idea worth spreading
Immunity to all disease is natural while suffering and dying from disease is unnatural.
I'm passionate about
Ted is not the venue to discuss immunity in humans because having immunity to disease contradicts popular commercial science and medicine. Feel free to join in on my website.
My TED story
I was told by other people who respect the human capacity to be immune to disease that Ted was the place to promote human immunity.