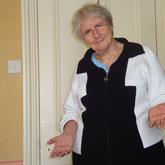 Bio
Born in Cluj, 75 years ago, I consider myself from "Transylvania'"
Mother language Hungarian, now in is Romania.
Fled to France when 30 years old
Worked from 18 as chemist.
Finished finally my studies at 43 (after PhD lived three years near Washington DC)
From 1980 in Micro computer business until retiring
Took up blogging and photography around age 70
I did learn all my life, now days also again to be better Public speaker Distinguished Toastmaster 2013. Keynote speaker, True Story teller and from age 77, as standup comedian, now more then 77 successful gig
Areas of Expertise
Photography, Writing, Blogging, Public Speaking, Standup Comedy, Story Teller, keynote speaker, Workshop and seminar organisator, Workshop and seminar presenter
An idea worth spreading
There is life after 70 and so much to discover and do
I'm passionate about
Speaking in public, photography, standup comedy
Universities
People don't know I'm good at
I did know myself I had funny bones, till I reached 77
My TED story
Never too late! We can always experience, learn and do new things. Realise what we dreamed in adolescence at any age, discover new possibilities we did not ever dream. It is never too late to begin new things! Many roadblock came in my life and I did finish my studies only after 43, did change my profession near 50, did marry again after 55, and changed countries many time.At 77 I discovered my funny bones and begin touring London's Standup Comedy circuit with success. Never too late to experiment, to learn to change again the nth time our lives.