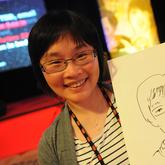 Jenny Yang
Software Product Manager, Motorola
Bio
I'm Chinese and grew up on the edge of Shanghai in a town called Cao He Jing. It was between the city, the farmland and close to many universities. So, I was only a few steps away from tall buildings, fancy store window displays, vegetable fields, pig pens, libraries and lecture halls. It was right after the announcement of the resumption of the national college entrance examination. (During the 10 years of the Cultural Revolution, students had been prevented from enrolling in college.) As I grew up, my house was filled with aged college students who rented rooms from us and who were majoring in a variety of fields: art, music, mathematics, philosophy... Our living room at night was like a TED Salon, with students just dropping in telling hard but rich life stories, debating about politics, showing their oil paintings, making jokes in foreign languages. Those wonderful times planted the seed of knowledge and nourished the little mind. At the age of 11, I was enrolled in a boarding school. At school, I started a student magazine, and then soon was selected to join Shanghai TV station to become the youngest student TV program producer and editor for a youth program. I was the first TV reporter hired by newly formed Shanghai Education TV station in 1993. Everybody including myself thought I would rise in the spectacular journalistic carrier, and I had never thought my life would have anything to do with science and technology. I was taking computer classes at university to help product a Science and Technology TV program but I always told people that I didn't have a "left brain." However, in 1996, the course of my life changed, when I moved to the US and had to start all over. All my friends suggested that I continue on studying computer science instead of journalism - an idea which I thought was crazy, but I took the challenge. I enrolled in college, worked in a computer lab, and learned how to build a computer, set up networks, build database and write code. I then moved on to manage software projects and currently, I am a software program manager working on the latest Android smart phones and tablets. I have learned a lot during this process, but still for a long time, I knew something was missing. I just couldn't find my own voice in this new life until I found TED. One day, after flipping through a couple of pages of "The Long Tail" in a bookstore, I googled the author's name, "Chris Anderson," and ended up listening to another Chris Anderson sharing his vision for TED. Immediately, I fell in love with TEDTalks and became addicted. I set up an iGoogle widget to monitor updates, put the talks on my blog, introduced TED at work, brought the TED concept to kids' school projects, and later participated in translation projects. I was amazed how TED connected all the dots and gave meanings to knowledge and learning. Through this journey, I found many things with which I had originally struggled and thought I was not good at were incredibly interesting. Translating TEDTalk to Chinese allow me to dive deep in the sea of the knowledge and helped me find my inner voice again. I was so happy and grateful that I could fully enjoy working in this new landscape, where education, art, new technology and media meet and produce magic products.
TED Conferences
TEDGlobal 2012, TEDGlobal 2011, TEDActive 2011, TEDActive 2010
Areas of Expertise
Software - Mobile Business, Education & New Technology, Translation - English to Chinese
I'm passionate about
Live Fully. Life is awesome whenever I realize that I am alive. I am always ready to open my mind to learn new things, connect the dots and embraced the new world.
Universities
Talk to me about
What kids need now? Bring TED to China. Mobile Future.