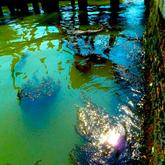 Rachel Armstrong
The University of Greenwich
Bio
I work with international scientists and architects to explore cutting-edge, sustainable technologies that take the form of new materials that possess some of the properties of living systems. By creating living materials such as, paint that can 'eat' carbon dioxide and change colour when it is 'full' cities will be able to participate in cleaning up the environment and even repairing some of the damage that we've already created. Collaborative work with architect Philip Beesley has been nominated for a Katerva Award in the field of Urban Design.
Languages
TED Conferences
TEDGlobal 2013, TEDGlobal 2012, TED2012, TEDGlobal 2011, TED2011, TEDGlobal 2010, TED2010, TEDGlobal 2009
Areas of Expertise
Synthetic Biology & Architecture
An idea worth spreading
I work with a new 'living' technology called the protocell. This is a chemically programmable agent based on the chemistry of oil and water which possesses some of the properties of living systems but is not truly 'alive'. Protocells can be chemically programmed using chemistry to create different kinds of responsive materials and may help us consider sustainable development in a new way that requires us to use more of materials that are good for the environment than less of technologies that cause pollution and climate change.
I'm passionate about
Using the creativity of science to address some of the world's biggest challenges!
Universities
Talk to me about
Environmental science, Sustainability, Future Cities, 'Bottom-up' synthetic biology.
People don't know I'm good at
Identifying talented people and working with them!
My TED story
I was practicing Synthetic Biology - the rational design and engineering of biology - before it ever had a name!! The first experience that I had with this new science was as a medical student working on a leprosy colony in India. Working with a hand surgeon we were able to restore grip in hands that had lost the use of their thumbs and enable people to protect their eyesight by re-siting their chewing muscles. Although the surgery was carried out in the most simple setting - as the leprous body does not need expensive anaesthetics - it was a life-changing experience to witness the impact of how very simple interventions could radically change people's lives for the better. I vowed to use the lessons learned from this experience on a much larger scale to benefit everyone!