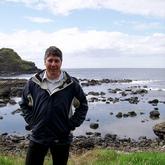 Aldo Caprini
Freelance consultant, Freelance ICT Consultant
Areas of Expertise
Information Technology, Rock Music, Graphic Design - Identity / Web / Print / Illustration, comics
An idea worth spreading
What if the whole world, or better, the whole universe would be under the Creative Commons License? Try figuring it out.
I'm passionate about
I'm passionate about music. I love hard rock music, I like to listen to british and U.S. hard'n'heavy bands and go to see their gigs. I like to write songs and I play in a band called "Glory Hunter".
Universities
Talk to me about
Anything you want. I'm a good listener.
People don't know I'm good at
drawing and painting, but it's hard to find the time. I'm also good at coocking, ya know?