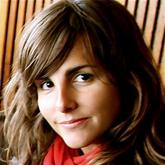 ana cañizares
managing edtor, arkinet, www.latinta.net
Bio
A cross between Cuban, Spanish and Californian. Studied in London and has worked in Barcelona for the last 10 years as an architecture editor and journalist for publishers like latinta and magazines like FRAME. Especially interested in the relationship between architecture and sustainable development.
Languages
Areas of Expertise
Architecture, Design
An idea worth spreading
You must ultimately find the place where you can be most effective, and this will inevitably be in doing what you're best at. In other words, no one is 'good at' saving the world; one is good at music or painting or writing or politics or science--and any of these can put one in a position to make a contribution toward saving the world.
- Daniel Quinn
I'm passionate about
architecture, design and sustainable development
Universities
Talk to me about
design, architecture, anything that improves conditions of people and all living beings on earth. positive actions.
People don't know I'm good at