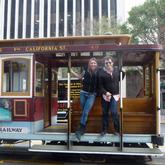 Bio
I started off in the science/technology fields and moved into elder care. I was initially interested in doing theoretical research as well as some applied stuff. Mathematics was my past time. Since then (about 10 years ago), I thought I could make a big difference by helping people directly. This is when I decided my life long goal was to work with seniors; the people who helped build up our society. A lot of times seniors are an after thought in this country, a nuisance if you will. We are trying to change that not only by helping families find social service solutions, but taking pride in what we do. We can proudly say we are not just in the field for the money but rather look forward each day to helping a new family solve their problems. I have been working with Senior Planning since 2007 and have no plans of changing my path of work.
Areas of Expertise
Elder Care and Housing, Senior Care Sector, Assisted Living, Assisted Living Technology
I'm passionate about
Cooking, Science, Wine, Assisted Living, Making a Difference, Passion
Universities
Talk to me about
Anything, I love to listen. I enjoy mathematics, pop science, talking about food and wine, about romance, pretty much anything. It is my job to listen and provide advice and hopefully I do a good job.
People don't know I'm good at
Wine making and cooking. I don't really tell too many people I like to cook or I make wine (starting to be on a pretty big scale).