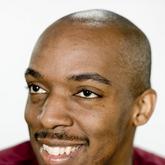 William Valentine
Business Development Engineer, B/E Aerospace
Bio
Live now. Work hard. Play hard. Find intimacy and hold on to it. No fear. No fate. No luck. Admire the majesty of nature. Explore. Strive. Obsess. Nurture and give. Forebear and empathize. Self inventory often and honestly. These are the principles I live by. A work in progress.
TED Conferences
TEDActive 2013, TEDActive 2011, TEDActive 2010
Areas of Expertise
Lighting Design, Music, Physics
An idea worth spreading
Everyone should do their best to understand the world around them, inside them, and far away from themselves in order to better appreciate their own existence. The deeper the understanding one has, the more they can respect the systems, and objects that help define who/what they are.
I'm passionate about
Life, love, science, music, the mind, the body, the world, opportunity, personal responsibility, fun, progress, learning, my family, my friends, growth, and having an impact.
Universities
Talk to me about
Let's talk about music. Music that helps spawn creativity and shed the confines of everyday life. Let's discuss how we can shed fear and live!
People don't know I'm good at
Managing people. Most people that know me think I am only interested in science, music or parenting. They don't realize that I am good at cultural issues and helping people reach their goals.
My TED story
2010 was my first TED. I attended TEDActive in Palm Springs, and got the full on TED experience. Simply put, I went nuts. I tried to absorb every single detail of the event. I wanted to spend time with every person, and be a part of every conversation. I wanted to watch every talk, and participate in every activity. I failed at that, but I'll tell you about the parts I did get to see.
Between meeting many new GOOD friends, having my mind blown by the talks, eating good food, having amazing conversations, and being a part of a life changing event, I can say for sure that TED is an idea worth spreading.