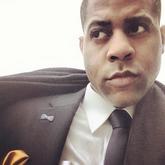 Exavier Pope
Principal Owner, The Pope Law Firm
Bio
Exavier B. Pope, Esq. has risen from homeless foster teen to national prominence. Exavier's determination, business acumen, and passion for service are a result of his relentless pursuit of higher purpose and inspiring others to do the same. Exavier is a nationally award winning and recognized sports and entertainment attorney, working in television (scripted and unscripted), Hollywood guilds, film, fashion, sports, politics, and finance.
Exavier's clients have included Def Jam Recordings,New York Times Bestselling Authors, Grammy Winning Performers, NBA Champion Athletes, and NFL Players.
Exavier is also an on-air legal analyst and personality, appearing on CNBC, NBC, CBS, and Huff Post Live as well as many other radio, television, print, and interactive outlets. Exavier is the host of the EX and BC Radio Show, focusing the business and law behind sports. Exavier owns a multimedia company which manages his celebrity brand and appearances as well as produce content.
Exavier is a Fortune 500 speaker and peak performance strategist to companies such as BP, motivating executives and employees through speeches and teambuilding. I also speak to top universities and non-profit organizations like University of Illinois. Exavier has given commencement addresses to graduating students. Exavier speaks at conferences globally.
Exavier has been profiled in national media publications such as Black Enterprise, Rolling Out, and Uptown Magazine.
In October of 2010 Exavier was nationally recognized by Black and Entertainment Sports Lawyers Association as a "Top Attorney". On March 6, 2013, Exavier was honored with the prestigious Alumni Leadership Award from the University of Illinois-Chicago's College of Business Administration. On June 15, 2013, Exavier was nominated for an Empowerment Award from the Metropolitan Board of Chicago Urban League at their 30th Anniversary Gala.
Exavier is a philanthropist,donating time and resources to my organization The Lily Pad, which mentors inner city teen males. Exavier is a Board Member of AIDS Foundation of Chicago, Board Member of superstar entertainer Kanye West's education organization Donda's House, and Advisory Board Member of Project H.O.O.D. started by famed "Rooftop Pastor" ,Corey Brooks.
Exavier's goal is for his brand influence reach and inspire at least 10 million people.
Areas of Expertise
Law, Law - Business, Law - Intellectual Property, Law - Social Media, Intellectual Property & Startups, Law - Sports and Entertainment, Public Speaker & Spokesperson , Business Consulting and Development, On Air Personality & Host, Social Media
An idea worth spreading
Many people in our world are miserable or living below their privilege in life. I believe my equation POSITIVE > negative = Better Life is worth spreading. We can always look at the bright side in life to turn bad to good, good to great, and great to transcendent. I also have this "1 Dollar, 1 School" idea that may transform education in the inner city.
I'm passionate about
I am passionate about God, my family, positivity, loving all people, inspiring others to reach their fullest potential, foster care and adoption, sports, public speaking, hip hop, bread, and smiling.
Talk to me about
If you talk to me about putting me in front of a big audience and inspiring them, I'm there. You can also talk to me about traveling the world, namely Australia.
People don't know I'm good at
rapping and poetry. I can string some witty lines together. Also, making cheesecake.
My TED story
I have watched many TED videos and they have inspired me during my darkest hours. I long to give one of my own where I share ways for everyone to "eat their Ps" to discover their Purpose, Plan, Partners, and Perseverance. I want to shout from the rooftops and people's lives are changed. I was made for TED or something like it. I was thinking of just doing my own when I decided to join this site, connect with other thought leaders, and think and act in ways to change the world around us.