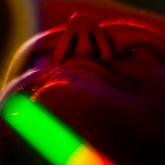 Timothy King
head of computer studies (high school), Upper Grand District School Board
Bio
Artist, photographer, technologist, writer and teacher. I'm putting my soul into the horcrux of digitization tentatively, but hope for the best. I want to surf the leading edge of the digital revolution until we have achieved a more perfect union with our creation. http://temkblog.blogspot.ca/
Languages
Areas of Expertise
Education , Technology - Education, Digital & Graphic Design, Photograpghy-artist, Writing, Philosophy, Mechanics
An idea worth spreading
Until we start teaching students effective digitization, we are relegating them to a feral existence in the new world we are creating. It is incumbent upon educators and adults in general to NOT surrender control of this medium to feral gangs of children. Mastery does not come from habitual use. We need to get a handle on how a digitized human being can be most effective, and then teach this to society as a whole. This is the vital role of the early adopter and educators everywhere. http://prezi.com/bjmmmgc3aka5/a-digital-skills-continuum-differentiating-technology/?kw=view-bjmmmgc3aka5&rc=ref-1136060
I'm passionate about
Intelligent technology integration, the creative power of digitization, thinking deeply and critically about the time in which we live. Hopeless optimism based on open curiosity!
Talk to me about
Digital art, photography, learning and teaching, social changes due to technology, being able to live in your time but philosophically understand it objectively.
People don't know I'm good at
Trying new things long after I thought I'd never get the chance: http://tkmotorcyclediaries.blogspot.ca/2013/03/n00b-at-43.html Thriving with my own neuro-diversity.
My TED story
What does a digitally enhanced person look like? Is it a screen staring zombie? Is it someone so distracted by information that they miss the world around them? Digitization is evolving toward a more perfect union with our physical lives. As a teacher I see the distracted digital native every day, they are often unable to follow simple, linear direction because their sense of continuity is so completely fractured. At this early stage of digital integration, we are flipping between two realities: the physical and the virtual, but as technology miniaturizes and personalizes we will grow out of this awkward adolescence and toward a digitally enhanced world that offers contextual, meaningful data just when it's needed. Everyone living in this datasphere, will find themselves in a world revolutionized by democratized information. Educators need to be on the leading edge of this revolution.