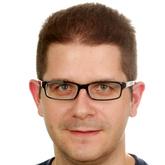 Alex Ramon Fernandez
Software Developer & Integrator
Bio
I have worked as a scholar for 9 months as medical applications integrator (application portal Concerto from Orion Health Intenational) at Son Llatzer Hospital in Palma sponsored by SM2 Baleares S.A. Then I worked part-time for 3 months as an Oracle Forms & Reports Developer (PL/SQL), also for SM2 Baleares S.A.
5 months as a web developer scholar in ASP.NET at Juniper Consulting.
Between October 2007 and March 2008 I have worked at Globalia Sistemas as a Programmer in JSP+Java+PL/SQL sponsored by SM2 Baleares S.A.
Since April 2008 I am working as a Programmer in ASP.NET, PL/SQL, Forte (TOOL) at Infomallorca (part of Orizonia Corp.) also sponsored by SM2 Baleares S.A.
Since December 2010 until January 2012 I have worked as a Programmer in Visual C#.NET at Banca March also sponsored by SM2 Baleares S.A.
SM2 Baleares S.A. is an IT consulting company providing professionals and services to a lot of clients.
--
From January 2012 until March 2013 I have worked at Idiso (former Tradyso) as a web developer using JSP.
Idiso is an IT Services leading company providing hotel sale and distribution services around the world emphasizing in electronic distribution and Internet sales, which include all the tourism distribution channels for hotels.
Areas of Expertise
Software Development & Support, Tourism Business, Hardware & Software Installation, Videogames
An idea worth spreading
Be yourself and don't let the world step on you. If you do the same as the rest of the world, you're done for. If all your friends get a big house with an even bigger bank loan (usually ending up paying 3x the house value...), why should you do the same? Signing for a 35 year long bank loan is like selling your soul for the rest of your active life. And this applies to everything we can't afford and "should" ask for a bank loan in order to get it.... asking for a bank loan in cases of real need is ok, but most of the time it is not a "case of real need" but a "case of 'my friend has got xxxxxxx and I 'need' xxxxxxx too" --> bad idea, isn't it? But most people think that way (the banking business is all about creating needs so that a lot of people signs lengthy loans and pays a mountain of interests).
I'm passionate about
Technology, Japan, Music, Salsa dancing, traveling, geting to know new cultures and ways of thinking.
Talk to me about
I'm willing to move to a different country in order to get a great job and/or fullfill my lifelong dream. Please describe the kind of projects that you' re developing or thinking about developing.
People don't know I'm good at
Remembering things, one time reading or one time explanation is usually enough for me to remember well. I aalways get to the last bit of detail of everything I do in order to do my best.