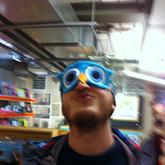 Neale Long
Teaching assistant, Siddal Primary School, part of Brighter Futures Academy Trust
Bio
http://vimeo.com/34026881
Languages
Areas of Expertise
English language and literature
I'm passionate about
Hearing your story, and learning from all of our mistakes.
Universities
Talk to me about
Everything... apart from sport (no interest there, apologies)
My TED story
I am passionate about illustration, esoteric music/sound sculpture, and cinema. I am also particularly interested in, and care strongly about Education, Community, Kindness, and our responsibility towards protecting the environment, for the wellbeing of all species, not merely our own.